"Bjørnsgaard demonstrates how Ibsen should be renewed and interpreted today!"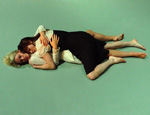 Choreographer Ingun Bjørnsgaard is an important innovator in the world of Scandinavian dance since 1992, when she started her own dance company. Her productions soon won several international prices, which drew attention to her work in many European countries.
New Choreography 2011
Choreographer
Ingun Bjørnsgaard
Dancers
Mattias Ekholm, Erik Rulin, Ida Wigdel, Matias 
Rønningen, Marianne Haugli, Marta-Luiza Jankowska

Composers
Rolf Wallin and Tansy Davies

Set designer
Thomas Björk

Costume designer
Ane Aasheim

Lighting designer
Hans Skogen
Sound designer
Morten Pettersen

Dramaturg
Kai Johnsen
Produced by Ingun Bjørnsgaard Prosjekt

Find videos, info and dates here:
If this aroused your curiosity, please get in touch: mail@bp-berlin.com.
Click here, if the newsletter does not display properly.