///TITLE/// ///FIRSTNAME/// ///LASTNAME///,
Homeland and Riskzones -

Under the artistic direction of Adolphe Binder, The Göteborg Ballet will umbrella the season with this major theme. We are looking forward to the visits of 13 unique artists from all over the world. The artistic vision is about taking risks, aestetically and physically, as well as breaking down the barriers to the public, between dance and other artforms and between art and life.

39 high class dancers from 16 countries will meet choreographers such as Marie Chouinard (Canada), Franck Chartier (Belgium), Sharon Eyal/Gai Behar (Israel), Guy Weizman/Roni Haver (Netherlands) and Fernando Melo (Brazil). We feature those who challenge and dare to move boundaries.
100 years after the spring of the "Rite"-riot in Paris we are lucky to have these masters with us, too: Pina Bausch and two versions of Igor Stravinsky's The Rite of Spring –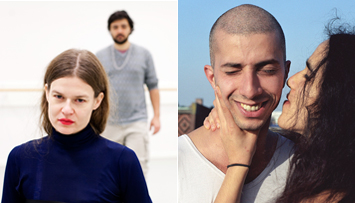 Sharon Eyal/Gai Behar (l.) and Guy Weizman/Roni Haver (r.)

HOMELAND?
Groundbreaking choreographers each mix gravity, sensuality and subtle humour in their own piece of dance art on the theme of alienation and identity. New creations for The Göteborg Ballet by Sharon Eyal/Gai Behar, former in-house choreographers for the Batsheva Dance Company and the Dutch duo Guy Weizman/Roni Haver.
CRAZY MIXMAS
A fun and bizarre evening, with creations by Alexander Ekman/Medhi Walerski, Jo Strømgren and our dance company's Fernando Melo. Successful with audiences and critics alike, La La Land and The Outskirts return, accompanied by a new creation: An overlooked bridge.


Fernando Melo (l.) and Alexander Ekman/Medhi Walerski (m.) and Jo Strømgren (r.)

RISK ZONES: THE RITE OF SPRING/bODY_rEMIX
The rebellious, award winning Canadian choreographer Marie Chouinard pays tribute to Stravinsky's Rite of Spring together with the Göteborg Opera Orchestra. The program also features the choreographer's masterly and anarchic bODY_rEMIX (March 2013). Two recreations for the whole company of The Göteborg Ballet.
33, RUE VANDENBRANDEN
A tailor made version for The Göteborg Ballet, based on the highly acclaimed 32, rue Vandenbranden by the Belgian duo Franck Chartier/ Gabriella Carrizo (Peeping Tom).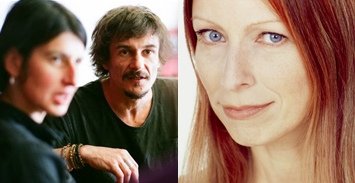 Gabriella Carrizo/Franck Chartier (l.) and Marie Chouinard (r.)
TANZTHEATER WUPPERTAL PINA BAUSCH
A rare and absolutely world class guest appearance: two dance productions by the legendary choreographer Pina Bausch: Café Müller and Le Sacre du Printemps. The first visit of Tanztheater Wuppertal Pina Bausch to Sweden in 15 years and the first ever to Göteborg.

For any further questions, please contact our press attachée:
Jenny Jernberg
Phone: +46 31-10 80 35

E-mail: jenny.jernberg@opera.se