2. International Dancefestival

Dear friends and colleagues,
We would like to draw your attention to the only dance festival in the Saarland, Germany! Under the artistic direction of Marguerite Donlon and festival consultancy by Binder + Partner Berlin, n.o.w. dance saar presents international contemporary dance in versatile formats.

Please do let us know, whether we can welcome you to the n.o.w. festival or one of the performances.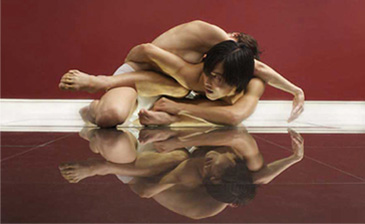 The Random Dance Company, London presents its current choreography Entity a crossover-project as a mix of genres where science and dance merge. Wayne McGregor, who has just been elected choreographer of the year (ballettanz), called neuroscientists and cognition-theorists in for this work. This isn't unusual research for the young successful choreographer. His searching for body-understanding leads inevitably to natural sciences and the exploration of the body itself, which he expresses in a futuristic aesthetic, with breaks but at the same time in a sensual way.

Blanca Li, Paris presents with her Company the new production Le Jardin des Délices, which première was celebrated in June 2009 for the festival Montpellier Danse. The choreographer Blanca Li took her inspiration from the triptych of the same name by the Flemish painter Hieronymus Bosch. Blanca Li is dunking into his cosmos of grotesque ado in-between heaven and hell and translates it into her own contemporary dance- and film language. In the interaction a multimedia stage happening about today's exposure to lust emerges.


Marguerite Donlon will create a piece inspired by the life and work of the Mexican painter Frida Kahlo (1907-1954). The title of the piece, Casa Azul, relates to the "blue house", the house where Frida Kahlo was born, which was an important place of retreat into private life for the artist, who was hit by several blows of fate throughout her life.
Marguerite Donlon draws her ideas for this dance piece not only from the multi-shaped artistic work of Frida Kahlo, but also from her journal entries, which in their imagery virtually call for a translation into dancing pictures. Mexican live-music and the works of the architectural design artist Ingo Bracke will complete the evening.



An Israeli, a Palestinian and a German get together to talk about shame and disgrace. In Knut Berger and Nir de Volff's latest production 3some, they talk in the bathtub until apparent death, fight with pillows and sticks and dance with self-mockery through a devastated stage set. Nir de Volff, Knut Berger and Sahara Abu Gosh are looking for an explanation for the first feeling in human history, documented by Adam and Eve, and they realise shame is fear of disgrace.
Today's hero doesn't have to be a knight. He may be staggerring dreamfully and clumsilly, may dare himself to jump into emptiness, may fall and be childish. He may live unconditionnal friendship, which doesn't know the word bareness, because it allows naturalness. The duo of choreographers and dancers Yossi Berg & Oded Graf, Tel Aviv, are illustrating in Heroes the primal urge for security and interpersonal connectivity. The racy dynamic achieved by their funny walk shifts between the three myths: friendship, love and being human, in a theatral and acrobatic body language.

The youth-project Zukunft n.o.w. (future n.o.w.) under the direction of Marguerite Donlon and the dance pedagogue Nadja Raszewski will make an expedition into the world of body experience and movement, which will be presented to the audience for the first time during the festival.