Blanca Li´ s next choreographic creation with her company is Le Jardin des Délices, inspired by Hieronymus Bosch´s famous painting. The first presentation will be at Montpellier Danse on 19 June, opening the renowned festival. The production will then move on to Paris´s Théâtre des Champs Elysées.
"(...) I have always wanted to give movement to this pictorial expression of a place where hell mingles with paradise, satire with morality, where the obsession with sin and salvation reaches an unequalled force." Blanca Li
"Blanca Li is one of today´s most interesting and cutting-edge choreographers ... The world of Blanca Li is a creative melting pot, filled with subtle and fantastic images..."
arte culture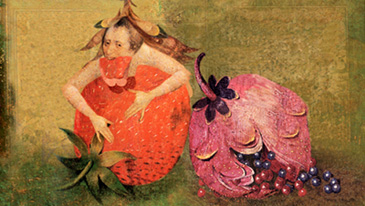 Blanca Li is a choreographer, film director, dancer and actress. Whether in performance, opera, video clip or feature film, she initiates and realises a great number of projects. Not restricted to one style, she embraces a broad spectrum of physical forms of expression, from flamenco to classical ballet to hip-hop. With her, everything begins, and ends, in the energy of movement and dance.
Blanca Li has choreographed and directed for the Opéra de Paris, the New York Met and the Biennale de Lyon. She was also chief choreographer at Komische Oper Berlin, and has worked at Opéra Massy and for the Théâtre National de Chaillot. In recognition of her innovative contributions to contemporary dance, Blanca Li has won the Manuel de Falla Award, the Globe de Christal and the Premio Max and was named Chevalier de l´Ordre du Mérite and Officier des Arts et des Lettres by the French Ministry of Culture.
(Co)Production: Festival Montpellier Danse 2009, Calentito Paris, le Théâtre, Scène Nationale (Narbonne), Altstadtherbst Kulturfestival Düsseldorf, CCN de Créteil et du Val-de-Marne (Accueil Studio), Studio de la Maison des Arts de Créteil, Théâtre des Champs-Elysées, BPBerlin.