Dear Presenter, dear Colleagues,
we are happy to present the world première "Omega and the Deer" of Norway´s exceptional dance company Ingun Bjørnsgaard Prosjekt!

CODA Oslo International Dance Festival
October 17, 20 h - world première
October 18, 20 h
Venue: Norwegian Opera House, stage 2 (Oslo)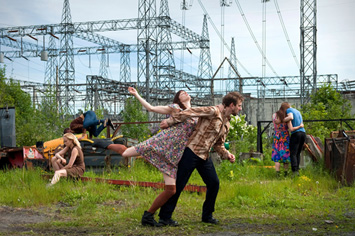 Ingun Bjørnsgaard
often stages her fumbling, brutal and beautiful characters as they are crossing the boundary between restraint and spectacle. In

"Omega and the Deer"
they get lost in such a place, on the way to the forest, taken prisoner by their own shadows. There is a framework, which outlines different spaces and directions for our movements: our body, our gender, our sense of belonging to a place, our sociability, our past.
This entails the perceptions and contrasts that shape us and create movement, friction, despair and melancholy. The piece addresses among other things the complex self‐perception of the modern man, with references to the art of Edvard Munch.
Omega and the Deer
Choreographer: Ingun Bjørnsgaard
Dancers: Mattias Ekholm, Erik Rulin, Ida Wigdel, Matias 
Rønningen, Marianne Haugli, Marta-Luiza Jankowska
Composers: Rolf Wallin and Tansy Davies
Set designer: Thomas Björk
Costume designer: Ane Aasheim
Lighting designer: Hans Skogen
Sound designer: Morten Pettersen
Dramaturg: Kai Johnsen
Produced by Ingun Bjørnsgaard Prosjekt


"When feelings turn into movement"
Ingun Bjørnsgaard is one of Norway's most prominent choreographers. With her beautiful, playful and well-composed productions she has won the acclaim of international audiences. In 1992 she founded Ingun Bjørnsgaard Prosjekt (IBP). Parallel to the development of her own choreographic idiom, she has worked as a guest choreographer for companies such as the Royal Swedish Ballet (Stockholm), the Norwegian National Ballet (Oslo), BerlinBallett Komische Oper, Tanztheater Bremen and Tanzcompagnie Oldenburg. She has received a number of prizes and is the first Norwegian artist who received the Norwegian dance critics' award on two occasions, for Sleeping Beauty (1995) and Largo (2010).
Find videos, info and dates here:
For further information:

Kirre Arneberg
General manager
Ingun Bjørnsgaard Prosjekt
T. + 47 22 33 22 28
kirre@ingunbp.no
www.ingunbp.no
Click here, if the newsletter does not display properly.