///TITLE/// ///FIRSTNAME/// ///LASTNAME///
Blanca Li is back staging urban dance. From what we know ELEKTRO KIF will be the first experience of a theatrical performance based on electro dance. Don´t miss our last Première in 2010!
After Macadam Macadam, which opened new representation areas for Hip Hop, and most recently `What a Circus!´ for the French collective `Jeu de jambes´, Blanca Li continues to put street culture on stage.
World Première ELEKTRO KIF by Blanca Li, Paris
for 8 Electro Dancers
12 - 15 December: Theatre L' Avant Seine, Colombes, France
18 - 19 January 2011: Festival Suresnes Cités Danse, France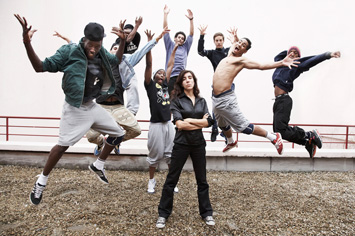 Some encounters sound like exciting challenges and stimulate imagination. With ELEKTRO KIF, Blanca plunges once again back into the urban dance universe, with its diversity, its constantly renewed creative identity in order to create of an innovative and contemporaneous chorographical show.
Wild rhythms and original scenes, Blanca Li is now working with interpreters chosen for their maestria in electro dance and for their talent to embody characters on stage.
Choreography and direction: Blanca Li / Dance: Jeremy Alberge, Khaled Abdulahi, Arnaud Bacharach, Roger Bepet, William Falla, Slate Hemedi, Alou Sidibe, Adrien Sissoko / Music: Tao Gutierrez / Lights: Jacques Châtelet / Choreography assistant: Glyslein Lefever.
Coproduction: Blanca Li's Company, CCN (National Choreographic Center) of Créteil and Val-de-Marne, Creteil City,Theatre L'Avant-Seine (Colombes), with the support of the French Ministry of Culture and Communication.
We hope that you will be able to attend one of the performances of ELEKTRO KIF! Let us know.